Kindermusik with Grow and Sing Studios at Oviedo Mall
Mondays at 10am or 11am, Jan. 20 - May 12
10:00am – Kindermusik Village for babies newborn – 18 months (under 5 months receives FREE tuition!)
11:00am – Kindermusik Our time for toddlers 18 months – 3 ½ years old
Monthly playdates at noon for babies through 7 years old.

Classes filling fast. Register today!
Learn more at www.growandsing.com or call 407-970-2774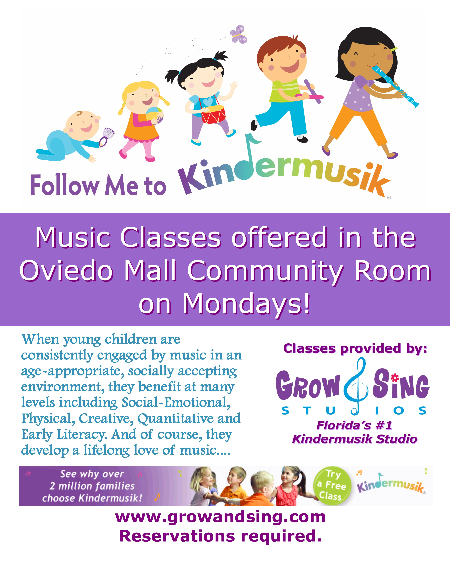 Grow and Sing Studios offers a variety of music classes in many locations including baby, toddler, pre-school age, Young Child 5 - 7 years old, multi-age family, Art & Book Time classes and Birthday Parties. We also offer classes on evenings and weekends.
Our program is award winning!
* Six time Kindermusik Maestro program
*Placed in the "Conductors Circle" for the 4th time recognized as top 1% of Kindermusik programs in the WORLD
*Ranked #20 out of 5000+ programs worldwide
*Voted "Best Music Class for Little Kids in Orlando" in the Parent's Picks awards at Nickelodeon's Parentsconnect.com 2 years in a row
*Voted "Best Party Entertainer in Orlando for 2010"