Julie Eason Smith 5k Scholarship Stride
Saturday, September 28th, 6:45am - 10:00am

Join us for our 2nd annual #5K #scholarship #fundraiser!

Candlelight Catering will be providing a hot breakfast again this year!

New this year: BASKETS!!! Each bibbed participants will be entered in our basket raffle. You must be present to win. 9:00 a.m. We have had some FABULOUS raffle items donated so far, you do not want to miss them!

Bike Works in Oviedo has donated a 2013 Giant Via 2 Bike valued at $525. Purchase tickets on the registration page.

The Top Ten Finishers (10 Female and 10 Male) will receive a medal. Awards will begin at 8:30 a.m..
DUNK TANK!!!!

For sponsorship information please contact Marci@BeersAndGordonLaw.com.

Registration online ends on Friday, September 26, 2014. You may register the day of beginning at 6:45 a.m..
Online registration after September 14th has a noted price increase for each category. Please see registration page online for price increase. Click here for facebook page.

#GiveBack
Thank you to our Sponsors!
www.OviedoMall.com
www.looklocal.com
www.candlelightcatering.com
www.BeersAndGordonLaw.com
www.ZooFitness.com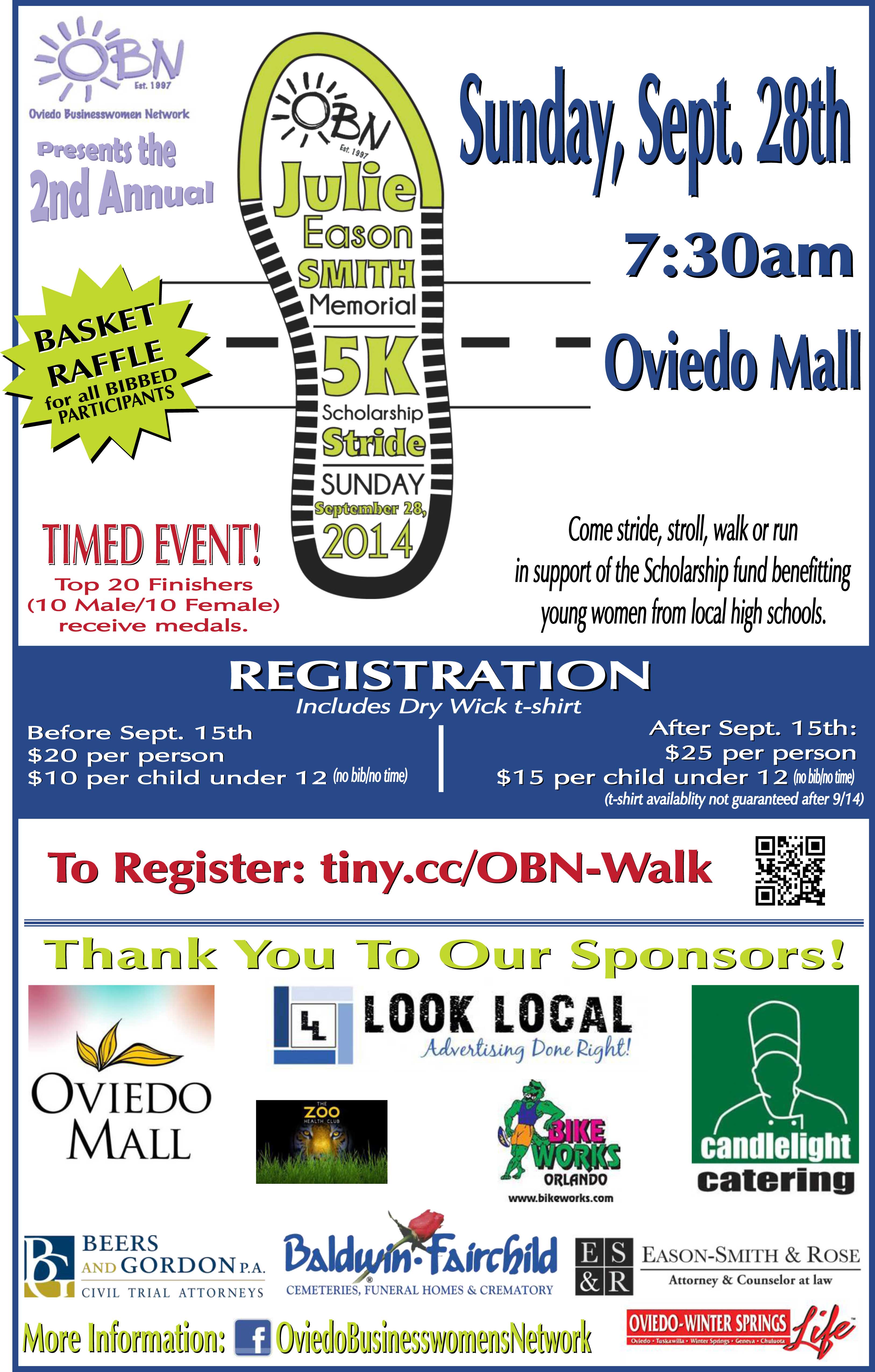 Women's Expo
Saturday, October 25th 12pm - 5:00pm

Come to Oviedo Mall for the Women's Expo on Saturday October 25th from 12pm to 5pm. Featuring vendors for Mom, Dad and the kids!
Happy Hallowwen
Halloween Night, Friday October 31, 5pm - 8pm

Happy Halloween!
Trick or Treating starts at 5pm from participating stores, while candy lasts
Costume Contest at 6pm in front of O2B Kids
Mad Science Show at 7pm in front of O2B Kids

Event is for kids ages 12 and under. Please no full face masks or false weapons.
Shop for Gifts
August 1st - September 30th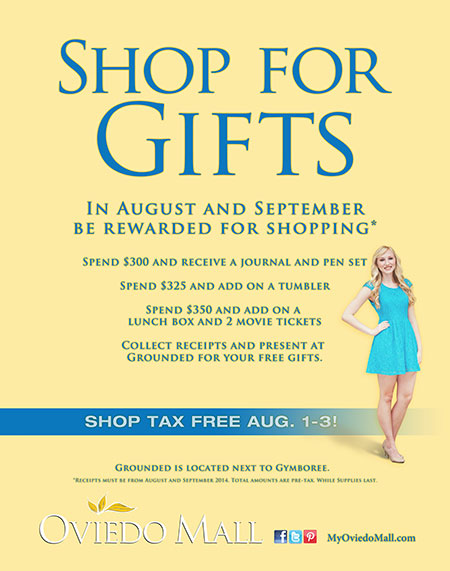 The more you shop, the more gifts you'll earn!

Shop August 1st through September 30th and be rewarded.
Redeem receipts at Grounded.
Tutu for Tatas
Saturday, September 13, 11am - 3pm

Tutu for Tatas!
...a brand new event presented by
Oviedo Mall and Susan G. Komen Central Florida

---
Featuring the Pink Lounge sponsored by Dillard's including makeovers and beauty tips by Christian Dior, Clinique, Estee Lauder, Lancome and Origins.
Fashion show featuring the latest in Komen racewear paired with hot fall fashions from Dillard's, modeled by local students and Survivors. Photography sponsored by Kelly Canova Photography.
Make your own Tutu and show it off with your girlfriends in the
I Tutu Because Photobooth! Photography sponsored by Kelly Canova Photography.
Contact Ashley at apruitt@komencentralflorida.org to register for the class.
Register for The Race for the Cure at the event and receive a $5 discount.
Wear your Tutu while shopping and receive special discounts at Oviedo Mall.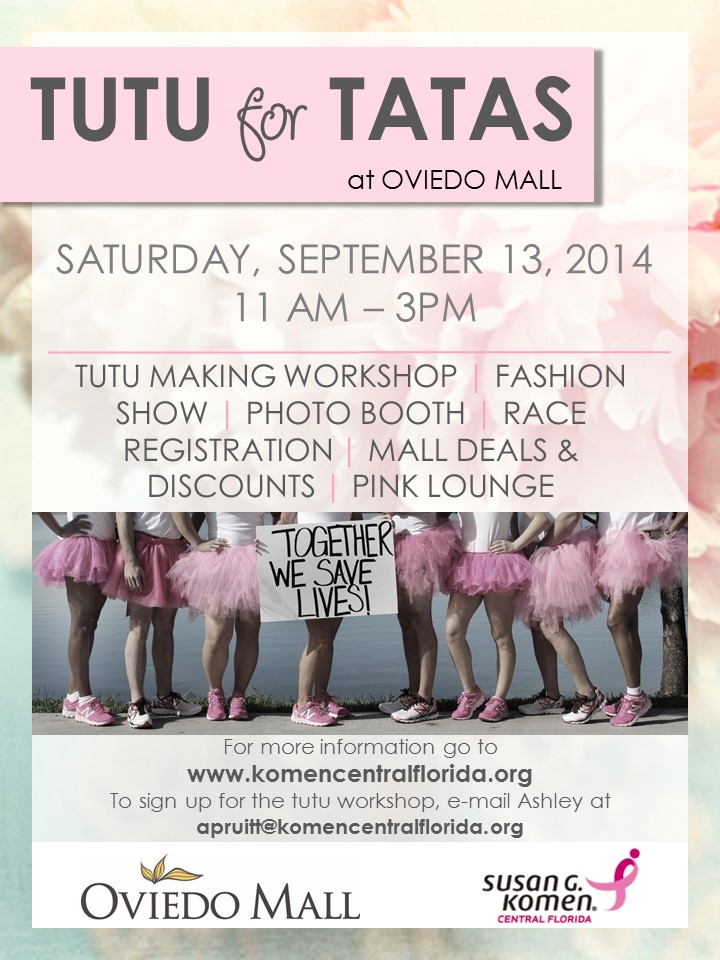 Abrakadoodle Family Art Workshop
Saturday, September 6th, 11m to 12pm

Family artwork created at the Abrakadoodle Family Doodles Workshop Series will be eligible for inclusion in the
Family Art Festival at Oviedo Mall on November 8th and 9th!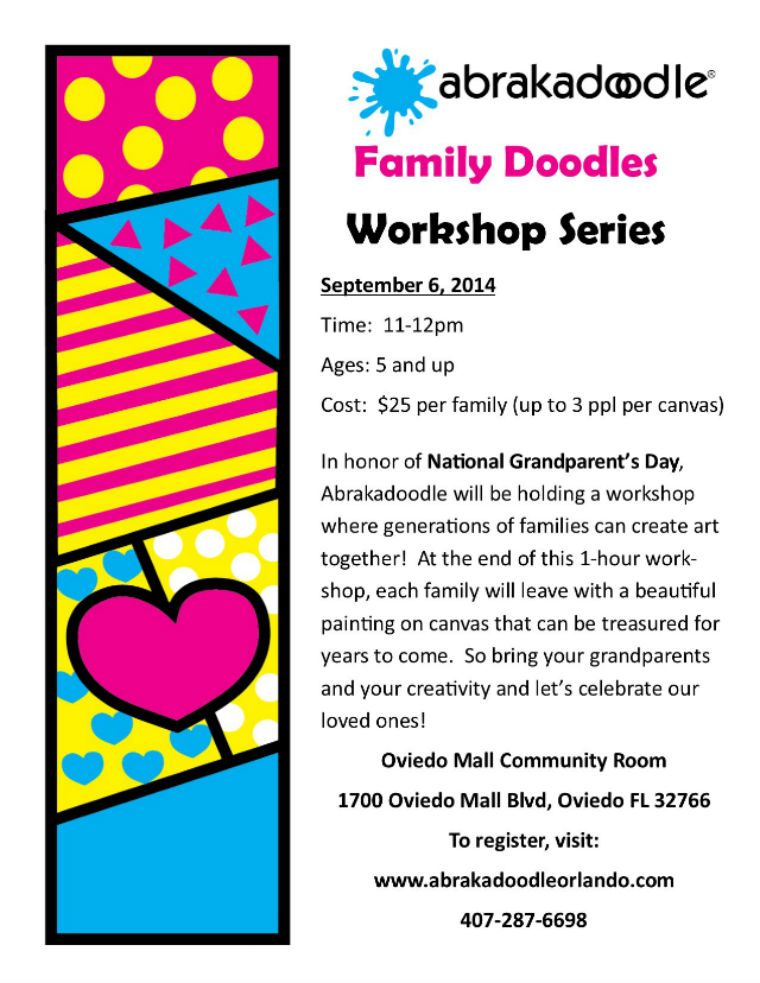 Kid Crew September Activities
Sept. 11, 18, and 25 from 10am to 11am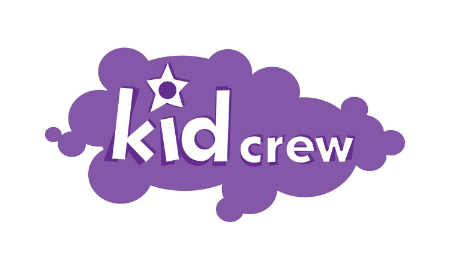 September Activities will open for registration on September 2nd at approximately 10am!

September 11: Mad Science
September 18: Abrakadoodle
September 25: Teddy Mountain

Kid Crew members receive a t-shirt, stickers, activities and special discounts!

All activities are held in the Community Room at 10am, unless otherwise stated, please arrive early for check in. Members, please bring your membership card for check in. If you are not a member please register online and visit the management office to pay the $5 annual fee, cash only please. Click the banner below to register for all the activities this month. All activities have a limited space. Registration will automatically close when the event has reached capacity.
---

REGISTRATION FOR SEPTEMBER WILL ACTIVATE ON
SEPTEMBER 2nd AT APPROXIMATELY 10AM



---
What is Kid Crew?
April - September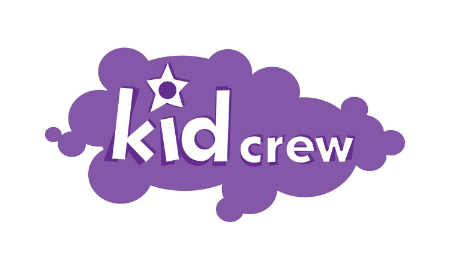 Find out what Kid Crew is all about:
A fun club for kids ages 1-6

Members receive a membership card, t-shirt, special offers and the ability to sign up for activities

Activities are held April thru September

Membership is only $5/membership year per child

Sign up to receive Kid Crew emails at www.myoviedomall.com

Then sign up for activities on the 1st of each month-limited capacity
A one-time per year $5.00 member fee will be collected at the first event the child attends. Fees are cash only with no refunds. *while supplies last.

Monthly Activities
August 28: Teddy Mountain
September 11: Mad Science
September 18: Abrakadoodle
September 25: Teddy Mountain
Register for Kid Crew emails at www.myovieodmall.com/info/kidcrew, get the emails, then sign up for monthly activities!
Print this page for fun discounts at Oviedo Mall merchants!